Last week I was in Dallas, Texas a couple of days for our yearly industry convention, the National Wood Flooring EXPO. I was expecting it to be nice and warm – isn't Texas supposed to be hot? Instead it was windy, rainy and cold! Good thing I wasn't there for a vacation.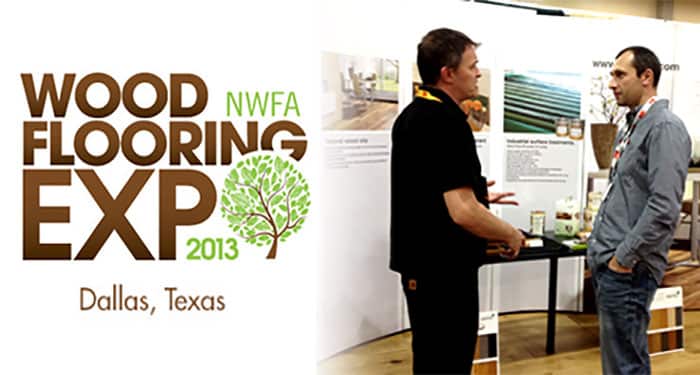 Instead I was there to keep up with all the latest and greatest products and advancements in the industry so we can keep offering our customers (like you) the best of the best for your hardwood flooring needs.
This year didn't disappoint.
There's been some big changes and advancements in the flooring industry lately.
One of the biggest that has really taken off with hardwood floor refinishing businesses and consumers alike is hardwax oils. As longtime readers of our blog know, we've been using hardwax oils for over 3 years now. (Last year we did a 4 month in-depth experiment and review on the top candidates – you can read about the results here.)
At the EXPO we had the chance to talk to the top 3 hardwax oil manufacturers and see if there were any new techniques or info.
Below you can see us at the Pallmann booth…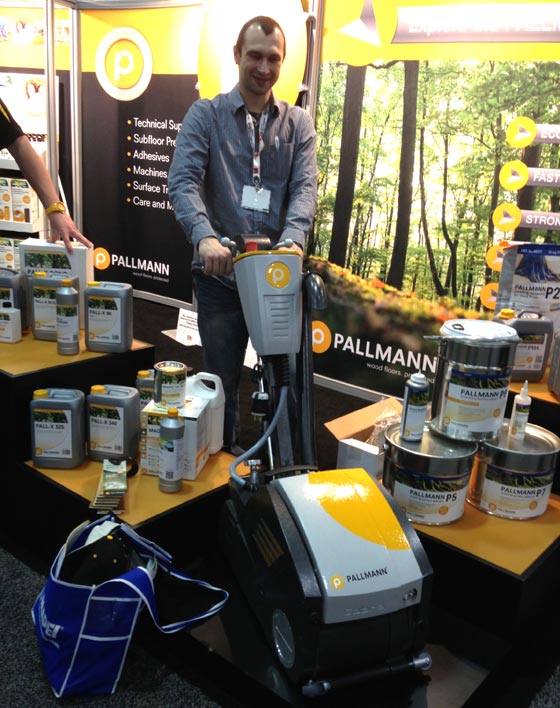 We've been very impressed for a long time now with Pallmann as a company. We use their water-based finishes, Pall-X 98 and Pall-X 96… as well as their hardwax oil system – Pallmann Magic Oil.
Their hardwax oil has gained a lot of respect among the hardwood refinishing industry and we're very happy to be able to offer it to our Naperville and Chicago area clients. As you can see above I wasn't just checking out the finishes there either, their new belt sander looks really cool and even has a cool name – the Cobra II. Better not let my guys see that 🙂
Below is the Pallmann rep for our territory in Illinois – Dave. It was nice to get a chance to catch up with him there in Dallas. If we ever have a question or an issue with any of their products, he's the guy we call…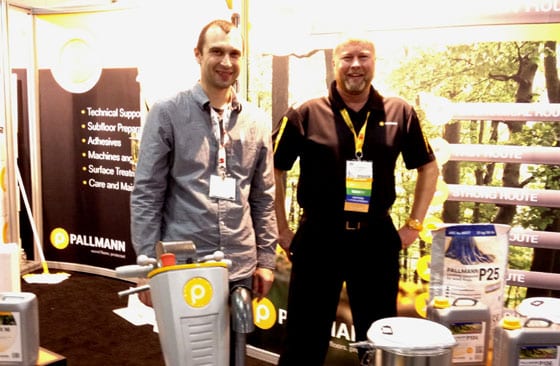 One thing that we'll be testing from Pallmann very soon is a new product they've developed called Pall-X Bond. It's a two component waterborne polyurethane bonding agent that allows a floor to be coated without sanding.
There are a lot of hand-scrapped solid and engineered floors out there that have been installed the last 5 or so years that will need refinishing soon. (Yes, despite what the warranty's say on these "indestructible" finishes, they still wear down). Unfortunately they won't be able to be sanded with traditional sanding machines like belt sanders and edgers as that would take all the character away and defeat the purpose of having a hand-scrapped floor in the first place.
This new system will allow these types of floors to be refinished so they can keep their rustic character.
If Pall-X Bond turns out to be as good as all of Pallmann's other products, then we will be able to offer another type of service too that could end up saving our clients a lot of money re-coating their floors in certain circumstances…
…we'll fill you in more about that soon. In fact we'll be doing a full in-depth test and review of  Pall-X Bond and 2 other products like this in the next few months.
Stay tuned!
The next hardwax oil manufacturer I stopped by to see was Rubio Monocoat. These guys are really on the cutting edge of hardwax oils and the colors and effects they have come up with are incredible. It was great catching up with them in their display booth…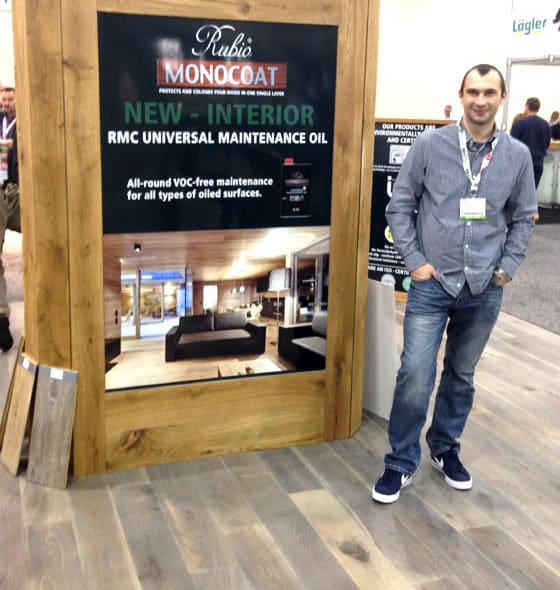 I also popped by and visited the guys from OSMO as you can see below.
OSMO is the very first hardwax oil that we started testing and using more than 3 years ago. This is another very professional company to deal with and I spent over an hour here talking to the guys in the booth catching up with the latest news and techniques…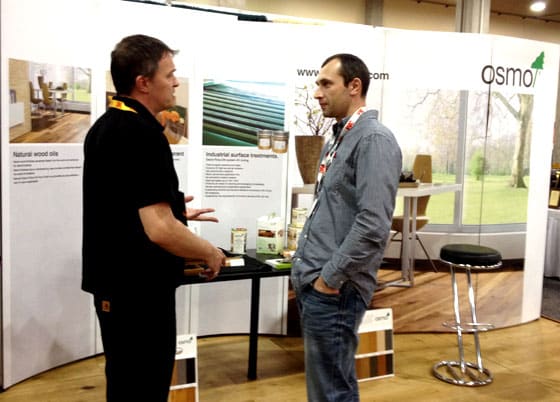 It's been great to see so much interest in these hardwax oils. We really feel that they'll be a huge part of the future of floor finishing and we'll definitely be staying on top of any new developments that happen with them.
In the picture below you can see me watching a demonstration from a brand new wood floor filler company…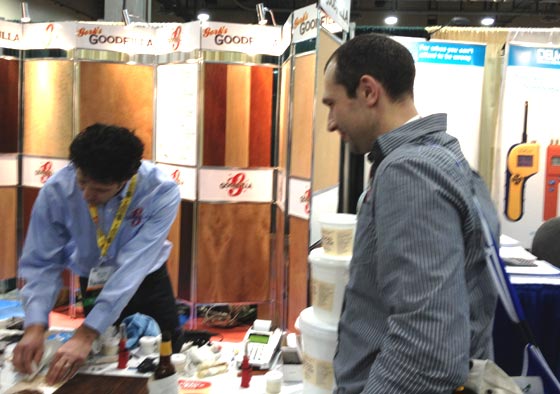 They've been spending the last year coming up with a new formulation that they hope will revolutionize the filler industry. From our initial impressions it looks like they're on to something for sure. We'll be spending some time in the next few weeks (once we get our samples) seeing how well it works on a bigger scale.
There were a lot of product demonstrations to see as well. Below you can see me filming a brand new water-based stain product being applied…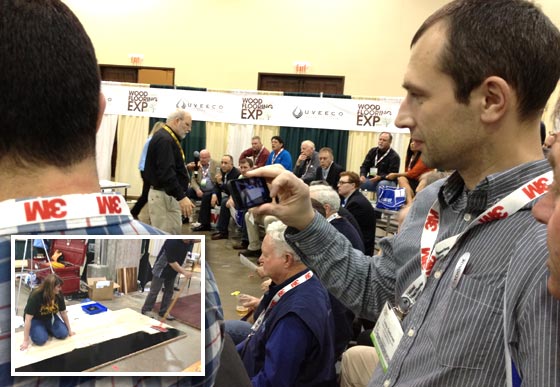 Out of all the demonstrations, I was the most impressed with this one.
Staining a hardwood floor dark, especially Maple floors, is very, very tricky. We have tested out water-based stains in the past and I would never try a dark one on a client's floor. There were always problem's with blending, lap marks and other issues. This new product though was amazing! It seems like they're solved all the issues water-based stains were plagued with in the past. They have something like over 150 colors available too.
It's not available to purchase yet (the show was the very first time it was shown to the public), but when it becomes available from our distributor we'll definitely be buying some and experimenting with it.
We'll be sure to do a blog post on our results.
Another product that was well represented at the EXPO that has been gaining some traction in the on-site refinishing market – especially the commercial segment – is UV cured finishes.
These finishes are applied on-site and then an hour later cured with an ultraviolet light machine. It's pretty amazing to be able to have a fully cured (not just dried) hardwood floor in such a short period of time. Up until lately this technology was only available for factory applied pre-finished flooring.
Unfortunately my photos of the UV machines and finishes didn't turn out too well so I couldn't include them here, but here's a photo of a UV demonstration from last year…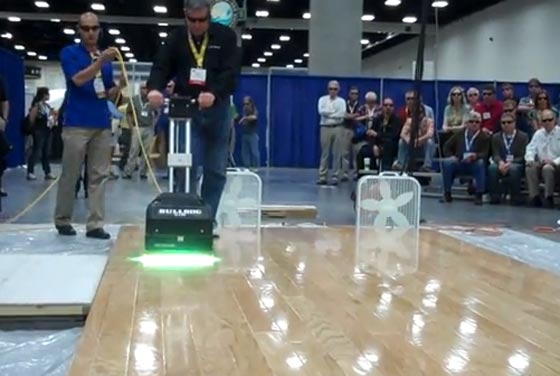 We spent a lot of time this year talking to the UV guys, seeing if it was something we should get serious about investing in and offering.
In the last couple of years they've made huge progress with their machines and finishes. But after talking to them seriously, it's apparent that they have a lot more technology coming out this year and further down the road too… things that will make the process a lot safer (UV light can be very dangerous to floors and people if not handled properly) and less costly to the end consumer.
In the commercial projects we do like restaurants, stores etc. we can see the benefit… they might need to be open for business and lots of foot traffic the very next day. For the residential market… we're not 100% sold on it yet.
For now we'll stay on top of the UV segment of our market and see what this year brings with new technology and products.
So all in all it was a very worthwhile trip down south to Dallas, Texas… even if the weather didn't cooperate.
It's pretty evident that the hardwood flooring industry definitely doesn't stay stagnant. Lots of new innovations are coming out all the time. In fact it can be hard staying on top of them all.
We have lots of reading, research and experimenting to do in the next few months. You can be sure that we'll share our findings with you all on our blog right here down the road.
Stay tuned hardwood floor enthusiasts!