This month was the yearly NWFA (National Wood Flooring Association) convention. It's where all the wood flooring manufacturers, equipment companies, finish suppliers and pretty much anyone that has anything to do with the wood flooring industry here in North America go to hang out once a year.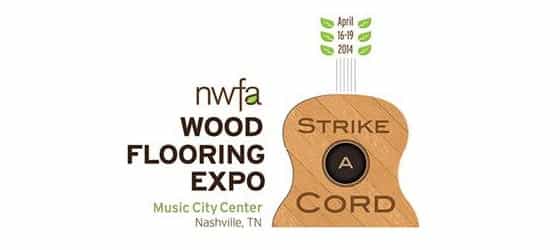 As we like to keep on top of the industry advancements and changes we try to go each year. This year it was down in Nashville. Three of us decided to rent a car and go on a 9 hour "hardwood flooring" road trip.
Because we were super busy with work unfortunately we couldn't take in the entire Nashville experience… we'll have to do that next time. But we did get to see a lot at the convention, which was the real purpose for going anyways.
Probably the coolest thing that I noticed this year was at the Eukula stand. Take a look at the 3D stickers on the sample board below…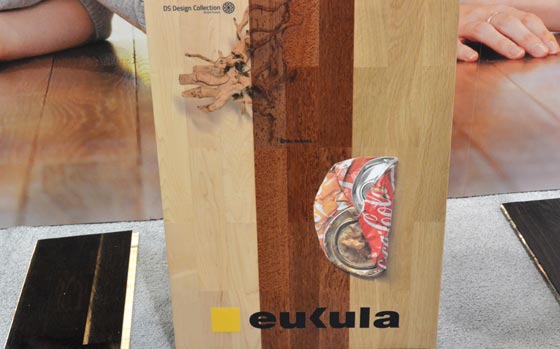 That squashed Coke can is pretty impressive hey!
Looking at it in person you would swear it's the real deal. They say they can print anything you can come up with.
Imagine the cool things you could print and put on your floor – my imagination was going crazy. I think it would be very effective using printed designs on the floors in retail outlets as very noticeable advertising.
Or you could just leave old Coke cans everywhere and drive the evening cleaners crazy 🙂
After chatting about the 3D stickers I spend quite a bit of time with the Eukula guys talking about finishes and what they have to offer…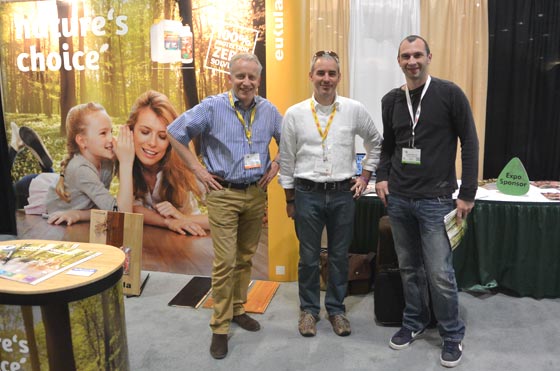 Their products look impressive and even though they are relatively new here in North America, they have a long history in Europe.
I'm especially interested in their hardwax oil system. I've ordered some finish samples from them so once we receive them we'll see how they go in our testing stage in the shop.
Another interesting thing I hadn't seen before was this contraption below. Can you guess what it does?
It's an embosser.
You feed flooring through and it prints a pattern on the surface. I guess you could do all kinds of things with it if you were creative enough – like making new wood look rustic etc. Probably not something we would get into though… we prefer the real thing.
We also spent a fair amount of time visiting and talking to the UV (ultra violet) floor curing guys. Here I am posing at one of the UV displays…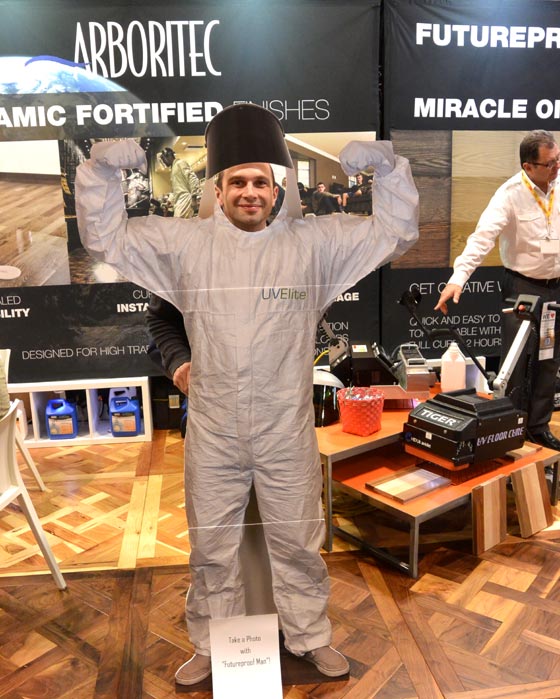 Yes, that's the gear you need to wear if you use UV finishes and machines. The strong ultra violet light can be very dangerous if you aren't completely protected from head to toe.
We're still keeping our eye on these ultra violet finishing systems. We believe it will be the way of the future, but the benefits are just not right there for us at the moment – one day.
One of the more fun things I did there was to participate in a competition…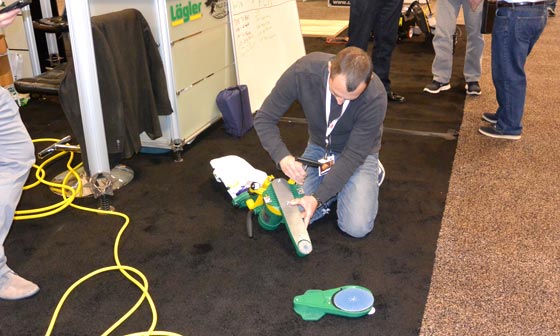 It was a time trial to see who could change the sanding gear on a specialized sanding machine – the Lagler Flip. The time to beat was 48 seconds… my time was 57 seconds 🙁
The prize was the actual Flip sander we were competing with. Would have been nice to win, we use a lot of Laglers machines in our business, including our belt sander and the TRIO we wrote about here. It looks like I'll need to practice a bit for next year.
Well that's about all I have time to write about this year. It was nice catching up with old friends and reps from companies we love working with like OSMO, Rubio, Pallmann etc.
It's a shame we didn't have much time for music or other stuff that Nashville is famous for but there's always next time.
Next year the NWFA expo is going to be in St. Louis, MO – sounds like another road trip!